GODFELL #1 | Preview
What happens when God fall from dead from the sky?

Writer - Christopher Sebela (@xtop)
Artist - Ben Hennessy (@Bennessy)
Colorist - Triona Farrell (@Treestumped)
Letterer - Jim Campbell (@CampbellLetters)
Editors - Der-shing Helmer (@shingworks) & Adrian Wassel (@afwassel)
Publisher - Vault Comics (@thevaultcomics)



One sunny day in the land of Kerethim, God falls dead from the sky. The impact sends out shockwaves that draw in royal families at war, shadowy creatures of the dark, and armies of the dispossessed, all coming to lay claim to parts of God's body.
Into this power struggle wanders Zanzi Vuiline, a soldier and berserker trying to get home from a years-long war. Forced to fight her way through the strange landscapes in and on God's corpse, from the soles of its feet through the top of its head, Zanzi will acquire a mysterious traveling companion on her own pilgrimage.

Below are some interiors from GODFELL #1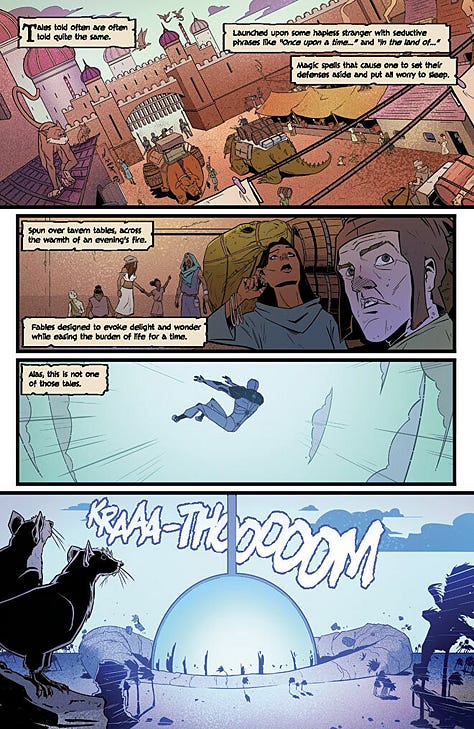 Sebela writes Zanzi Vuilin with such raw emotion and rage which Hennessy captures in such detail that I had a hard time turning the page. This epic fantasy world is rich with colors provided by Farrell and Campbell nailed it with lettering. Don't wait for a God to fall to pick up your copy today!! - Cody
Expected In Store Date 2/22/23 | Order codes DEC221719 - 221724


Vault publishes original, creator-owned science fiction, fantasy, and horror comics and graphic novels, from both emerging and established creators.

---
Thanks for reading Keeping it Geekly's Substack! Subscribe for free to receive new posts and support my work.