CTRL+Z #1+2 | Preview
What happens when the world around you can be edited at whim?
Writer - Chris Moses (@Rchrismoses)
Artist - Riccardo Cecchi (@RiccardoCecch15)
Colorist - Marcos Martins (@mmartinsart)
Letterer - Reed Hinckley-Barnes (@reed_hb)
Editor - Devin Arscott (@CBDev95)

Publisher - Red Sea Comics (@RedSeaComics)



CTRL+Z #1-2
is currently live with a Kickstarter!! Be sure to head
here to back
!!

CTRL+Z is set in a world where Humanity has migrated to a post-physical existence, a simulation called Cyberscape. Cyberscape is separated into three main servers, all with varying levels of access to "editing" the simulation around them, with the Lowers possessing no privileges' at all.

Eidolon is a sentry, a moderator for the simulation. When people start to go missing, it's up to Eidolon to find out the source of the disappearances and their connection to a mysterious yet seductive foe, The Admin. 

Below are some interiors from CTRL+Z #1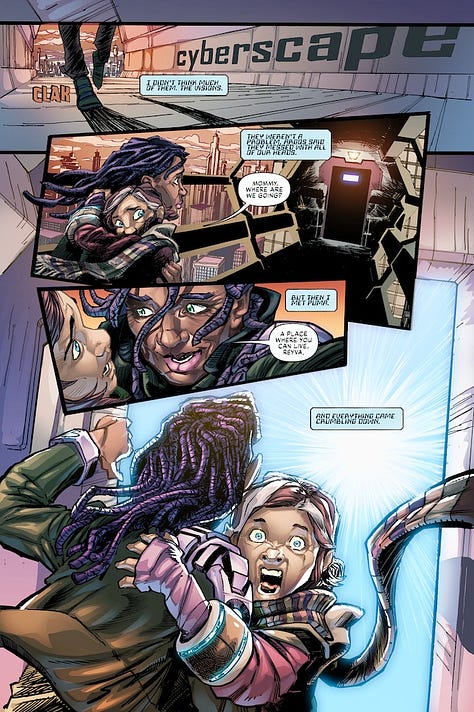 CTRL+Z is a four-issue sci-fi action comic book series intended for mature readers*. This is the first time we're bringing CTRL+Z to Kickstarter!
Set in a world where Humanity has migrated to a simulation called Cyberscape, this comic is perfect for fans of titles like The Matrix and Ready Player One!

Be sure to check out my last sitdown with Chris Moses down below!!
---
Thanks for reading Keeping it Geekly's Substack! Subscribe for free to receive new posts and support my work.