Bearer of Ages #1 | Preview
A new fantasy comic showcasing the journey of an ancient weapon and its wielders.

Writer - C.J. Hudson (@ceejthehudson)
Artist - Atula Siriwardane (@AtulaSiriwardan)
Letter - Isaac Willbanks (@iwillb13)
Publisher - Epic Fantasy (@CBDev95)

In this 32-page, full-color, the action-packed first issue we meet Amaya, Isi, and Sarea, all bearers of a mysterious sword intertwined throughout different periods of time and living in a repeating cycle concocted by an ancient evil.  We find these young women living in very different places; feudal Japan, a modern city landscape, and an off-world space station, all in different stages of their cycle, trying to interpret their true purpose or perhaps coming to grips with the reality they have created. Their stories are all unique, yet still connected, with smatterings of each other's stories weaved into different timelines and realities, and all providing clues to what is to come. How will any of them react to the higher purpose they are supposedly destinated to accept, to be the harbinger of doom of all earth?
If it meant untold power and earthly or otherworldly delights, enlightenment, vengeance, or even peace, what would you do? Would you follow a path of darkness for the sake of those you loved, for your own pride, or even fear? Or would you start the cycle over, averting an apocalypse, but knowing it meant never-ending torment for all future bearers? A bearer is predestined to find the sword, but their choices change the course of all reality. Get ready for epic battles, sexy couplings, and intrigue!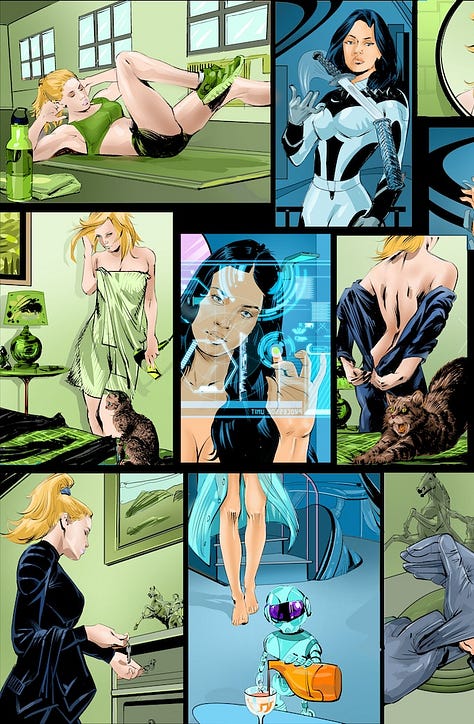 Three women; one a potential warlord in Japan, one the protector of the earth, and the other just trying to pass her college mid-terms, come to grips with their newfound powers and responsibilities without ever meeting each other. Three epic stories will collide in one miniseries where death and rebirth are unending

Bearer of Ages is currently running a campaign on Kickstarter, you can back it to make it happen here. Here is my sit down with both the Writer as well as Devin Arscott of Epic Fantasy!"
---
Thanks for reading Keeping it Geekly's Substack! Subscribe for free to receive new posts and support my work.